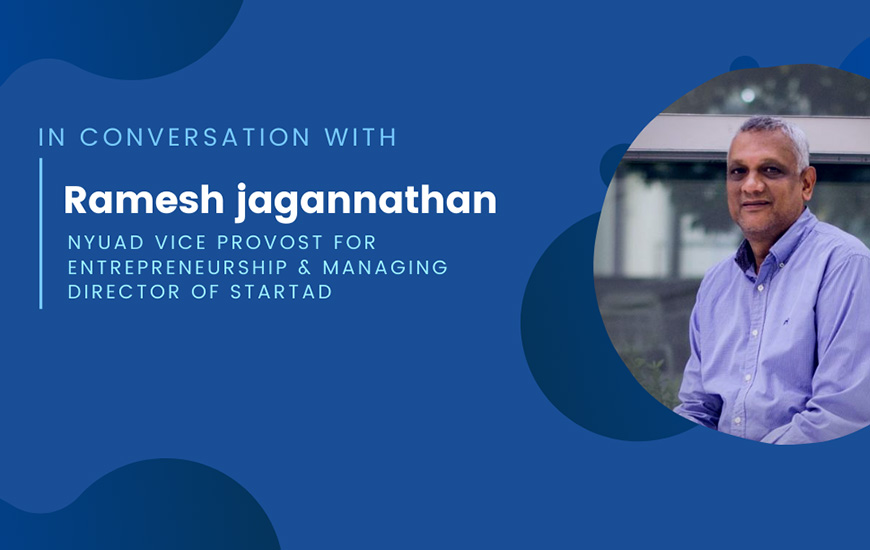 The widespread pandemic that is terrorising the globe, the people, governments, businesses and more, isn't something that requires elaboration, but we as a media organisation that aims to support the startup ecosystem and foster learning, have found it really significant to bring forward expert opinion and advice for startups and entrepreneurs.
We at LAFFAZ leveraged our social channels to accumulate problem statements and questions from startups, investors and entrepreneurs across the MENA region, drafted them into appropriate questions and presented the same to our knowledge partners.
So, here's to our first conversation in the series #StartupsVCovid19 about the impact of COVID-19 on the MENA startup ecosystem, the opportunities, problems, and solutions with Mr Ramesh Jagannathan, who is the NYUAD Vice Provost for Entrepreneurship and the Managing Director of startAD.
LAFFAZ: What's the core cognition of startAD behind investing and accelerating seed-stage startups globally? Which are the majorly targeted geographies and sectors?
Ramesh: One of the reasons I was asked to join NYU Abu Dhabi was to help in the regional knowledge economy transition. In the first year in Abu Dhabi, I was tasked to be in one of the five panels of experts to certify the Abu Dhabi government's 2030 vision. Through this, I understood the focus and top-down commitment to make this transition a reality. startAD is anchored at NYU Abu Dhabi and powered by its partner Tamkeen, startAD provides a unique model for entrepreneurial education and innovation for the region. It enables major regional corporations to innovate with global startups through an immersive program that is based on a disciplined, repeatable and scalable process to efficiently de-risk the path to product/market fit. In a short period of three years, startAD has created a successful ecosystem platform of programs aimed at regional capacity building, youth entrepreneurship, research commercialization, business acceleration for SME, corporate and government innovation.
Our youth entrepreneurship, deep tech, and research commercialization programs focus on innovations created in the UAE with the potential for global impact. Our accelerator, investor, and corporate programs are global, with ventures from Singapore, the United States, Switzerland, India, Egypt, the United Kingdom, and more, having a direct relevance to priority industries in the UAE. We also work closely with our network in Shenzhen for our hardware startups.
LAFFAZ: How many startups has startAD supported until date, sectors and what's the approach for selection of startups? Please mention the names of VCs which work with startAD to invest in startups.
Our corporate sprint accelerator focuses on priority industries in the UAE such as construction tech, AI, Fintech, and sustainable materials and is run in partnerships with 16 leading local entities including Aldar, ADNEC, ADNOC Distribution, IMKAN, Etihad and others.
118 alumni from 24 countries have raised $50 million, secured over 50 pilots with corporations, generated $15 million in revenue annually and created 250 jobs. Two were acquired.
We have engaged with a diverse range of investors through our investor education and startup programs. Some of them include local entities like VentureSouq, Khalifa Fund, Sandooq Al Watan, and global entities include Andressen Horowitz, Structure Capital, Kalaari Capital, SOSV, Acumen, Angellist, Hackers and Founders, CCC, St. Gobain (Nova Ventures), and more.
We strongly believe that startAD's holistic approach, the processes and programs are directly applicable to scale and build MENA and other emerging ecosystems. It is an unprecedented opportunity for the UAE to be the regional leader in the 21st Century entrepreneurial economic transformation.
LAFFAZ: An opinionated one! New startup founders especially the young ones hustle a lot convince angels and VCs since they are more inclined towards startups founded by the ex-employees of big fish brands and corporates. Do you think it is true? What's your view on this nepotism in the startup ecosystem globally? And how startup accelerators are making journey easier for new startups?
Ramesh: That's a great question. In the US, annual angel investments of $24bn are being made in over 64,000 start-ups. In fact, 74 percent of all Silicon Valley investments are from entrepreneurial angels, who were previously a founder or a CEO of their own start-up. The phenomenon of "founders funding founders" highlights the organic nature of the process, that they are "local" and have a deep understanding of the entrepreneurship ecosystem and play a vital role in building the ecosystem. This deep knowledge helps to mitigate some of the risks that come with ambiguous valuation of early stage start-ups. More than 60 percent of the angels become active mentors of the start-ups they have invested in and generally take a board seat. More than half of them have a technology background.
Having the "right" angel investor tends to de-risk the entrepreneurial process and increases the start-ups' success rate in raising funds in future rounds. Angels generally see 11 percent of their portfolio producing positive returns.
On the other hand, in emerging ecosystems, there is a dearth of previously successful entrepreneurs, thereby creating a "catch 22" situation. The time scale of the process to build a sustainable entrepreneurial ecosystem is made more acute by the fact that 67 percent of start-ups fail at some point in the process due to inability to raise a subsequent round of financing. The paradox is this: to have a healthy, sustainable entrepreneurial ecosystem, one needs a significant pool of high-quality start-ups to cater to a large consumer middle-class and angel investors who have been successful entrepreneurs, preferably within the ecosystem. In other words, while having significant individual or group (eg syndicates) wealth is necessary, they are definitely not sufficient to build a robust ecosystem in an emerging economy, if the wealth is not "hard-wired" to local entrepreneurial experience. Ecosystems are organic in nature.
In an emerging ecosystem such as the UAE, there is significant oil wealth and the potential per capita angel capital is one of the largest in the world. It would be prudent to curb the tendency to look for quick, ready-made solutions off the Silicon Valley shelf for local problems and needs. That would not bode well for building an entrepreneurship ecosystem from the bottom up. By definition, one cannot buy an organic ecosystem. It has to be home grown. The latency of the local entrepreneurial talent pool and absence of a disciplined and informed state-of-the-art process that dovetails to a VC infrastructure, by leveraging the local societal sensibilities and strategic inter-governmental alliances, the strength of access to large sums of local capital could quickly become our Achilles' heel.
LAFFAZ: What are the risks involved for MENA-based startups and Investors (VCs, Accelerators) amid Covid-19 outbreak? What will be the impact of Covid-19 on MENA startup ecosystem in 2020 and after?
Ramesh: At a high level, the general rule of thumb for VC is to reserve 50% of their capital for follow-on investment and be selective and focus on startups that are likely to succeed. The hard fact is that they are looking to make money and will make even more conservative investment decisions now. They are unlikely to take the risk of bailing out questionable companies. My feeling is that the VC would rather take the risk and wait it out.
The wall street volatility, massive US unemployment (~15%) will have a ripple effect across many sectors around the globe. The angel investor liquidity is strained and will directly impact seed and pre-revenue investment, the most vulnerable state in startup life cycle. In the GCC, the oil price crisis and the heavy dependence on the tourism sector is putting significant stress on the economies. While the short-term impact is significant, the countries have very good long-term strategies in place to weather the storm. For example, the Ghadan initiative is focused on robust long-term sustainability programs such as food security, EdTech and R&D commercialization.
LAFFAZ: Experts are suggesting that startups and investors should close deal quickly before the pandemic situation gets worse. What's your take?
Ramesh: The hard reality is that capital is going to be hard to access in the short term and closing the investment deal quickly is never quick enough. For all startups in the short term, the deal terms and valuations will only get worse. VC are likely to focus on protecting their large late stage investments. Startups, especially the early stage ones have to buckle down, slash the burn rate and come up with a short-term strategy to ride the storm out. VC are likely to focus on protecting their large late stage investments.
LAFFAZ: According to you, where's MENA startup ecosystem is heading up next?
Ramesh: For the oil-rich nations, there is no immediate scarcity of wealth and on the supply side, there is plenty of available goods and services. It is like saying 'future necessity is the mother of invention'. Five years ago, when I created startAD, there was only one other business accelerator in Abu Dhabi. There was also Oasis500 in Jordan and Berytech in Beirut. The governments are beginning to refine the regulatory and immigration processes with a view to bring down the barriers and incentivise startups. Fast forward to now, there is an abundance of business acceleration programs both local and global such as Techstars, Starburst and Plug and Play in the UAE alone. The west is slowly taking notice of the MENA market potential.
The problem of building an ecosystem from scratch requires a careful alignment of the various ecosystem forces, namely, the governments, universities, large private sector stakeholders, angels, VC, local startups and high-quality business accelerators providing a flow of high-tech global startups aligned with private sectors stakeholders of which, there are many. For example, we have two global airlines in the UAE, ADNOC is the sixth in the global data rankings as the world's top energy firm, EGA is the world's largest premium aluminium producer and DP World is a world leader in global supply chain solutions; specializing in cargo logistics, port terminal operations, maritime services and free zones. The AI disruption of the $12.7 trillion global construction sector through startups is imminent.
In a nutshell, building a dominant 21st Century entrepreneurial ecosystem in the MENA region requires a holistic long-term strategy with measurable milestones. It should be about designing a marathon run and not a 100-meter dash. I have to emphasize that I am extremely optimistic about UAE and the MENA region based on the extensive benchmarking that I have done. I am confident that there is a significant opportunity for the UAE and the MENA region to become dominant in the global entrepreneurial economic landscape. There is a white space available for them to walk into, with a good strategy and patient execution.
LAFFAZ: What are the initiatives that startAD has planned or planning for startups amid Covid-19.
Ramesh: During the COVID-19 outbreak, we have moved our programs online, allowing early-stage entrepreneurs to continue to engage with our programming remotely. We have seen it as important to remain connected with the start-ups that we work with during this time, continuing to provide them with insight into the entrepreneurial world through our programming, and offering them advice on mitigating damage caused by the onset of COVID-19. In addition, we have launched a relief fund, in collaboration with our partners VentureSouq and Scalable CFO, titled the Runway Grant. The fund is a total of US $30,000, to be provided to start-ups which have exceptional need of additional support, during this time.
Finally, we have also launched a LinkedIn campaign, in association with the launch of our Runway Grant, titled #LengthenTheRunway, inviting individuals and businesses to share how they are supporting start-ups during this time of hardship, by posting on LinkedIn what impact they are having to better serve communities during this time. To date, cumulative services worth $90000 have been committed by startAD and members of the community.
We are continuing to work with both our current students, alums, and partners from the corporate and government sector to monitor the situation, provide support, and offer more help to start-ups affected by COVID-19.
LAFFAZ: How about saying a short quote to motivate seed and early-stage startups struggling during Covid-19?
Ramesh: The British wartime leader, Winston Churchill, once said: "never let a good crisis go to waste"
I would echo this sentiment to seed and early-stage startups now. As the world adjusts to a new form of living, those at the height of the innovation curve are able to adapt quickly and offer new technological solutions, be that in the ed-tech, delivery services, or other sectors. It is important for each entrepreneur to recognize the business opportunity in the midst of this current crisis.
LAFFAZ: What's that top technology every startup of today's age should be utilising?
Ramesh: The advent of the 2nd Machine Age driven by AI and Deep Learning democratizes the innovation landscape for the 3 billion rising global middle-class from India, China, and Africa. For the first time in history, it gives them an opportunity to compete globally on a level playing field. The world is looking at a new Silk Road, where the MENA once again finds itself situated in the middle, geographically and strategically.
Lastly, giving a pat on the back of LAFFAZ, Ramesh said,
"LAFFAZ is uniquely positioned to shine a light on promising emerging technologies from two key markets that will play a key role in the future of the global economy."