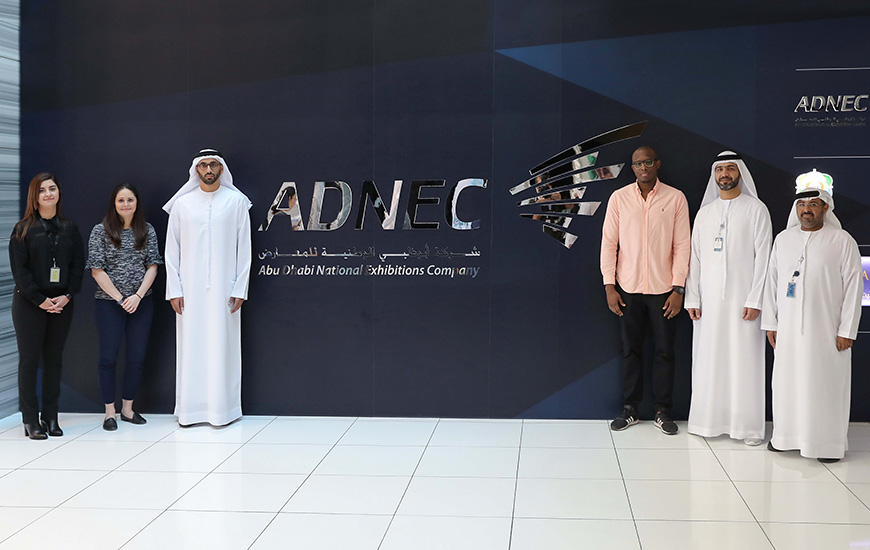 ABU DHABI, 23rd December, 2019 (WAM) — The Abu Dhabi National Exhibitions Company, ADNEC, has collaborated with startAD, the global programme anchored at New York University Abu Dhabi, NYUAD, and powered by Tamkeen, as an innovative approach to further showcase their innovation abilities and strategies.
ADNEC cemented this new partnership with a signing ceremony with startAD, after supporting the launch of four smart bins for waste recycling, created from a prototype developed by Cycled, a technology start-up incubated with startAD at NYUAD during the Abu Dhabi International Boat Show 2019 at the ADNEC Marina, with the aim of measuring the popularity of this environmental innovation among the show visitors.
The smart bins help event organisers improve visitor engagement while reducing waste management costs. As soon as some waste (mainly metal, plastic or glass) is disposed into the Cycled Smart Bin, information regarding the weight of the material, along with the amount of carbon emission saved by using this smart bin, will be displayed on the person's smart device.
Ahmed Al Obaidli, Chief Operations Officer of ADNEC, said, "We are proud to launch the Cycled Smart Bin, an outcome of our joint efforts with startAD and NYUAD. The Cycled Smart Bin is a symbol of ADNEC's commitment to its collaborative innovation and sustainability initiatives. ADNEC has always been at the forefront of giving a head start to worthy innovative ideas that take humanity to the next level of creating a sustainable future."
Al Obaidli added, "ADNEC is extremely proud to be a key player in driving the UAE's innovation and environmental sustainability strategy. The instant carbon-saving information shared over mobile phone to Cycled Smart Bin users is a positive input that will encourage them to be willing partakers in creating a green future. Innovations like the Cycled Smart Bin will go a long way in fostering environmentally responsible behaviour in people. Depending on its popularity, this smart product may soon be scaled up for wider use in society."
Vice Provost of Innovation and Entrepreneurship at NYUAD and Managing Director of startAD Ramesh Jagannathan, commented, "startAD is committed to bringing social impact solutions from the margins to the mainstream of entrepreneurial focus. ADNEC is setting a strong example as a corporate leader by opening its doors to young innovators building solutions to global challenges. We are proud to partner with ADNEC in this significant partnership, where ADNEC is taking concrete steps in fostering innovation and sustainability to create impact."
startAD is a global accelerator at NYUAD that facilitates deserving technology start-ups from around the world to scale up their ventures in association with industry leaders. From among a number of seed-stage innovations, ADNEC chose to aid the development of the Cycled Smart Bin as it was in line with the company's commitment to environmental sustainability.