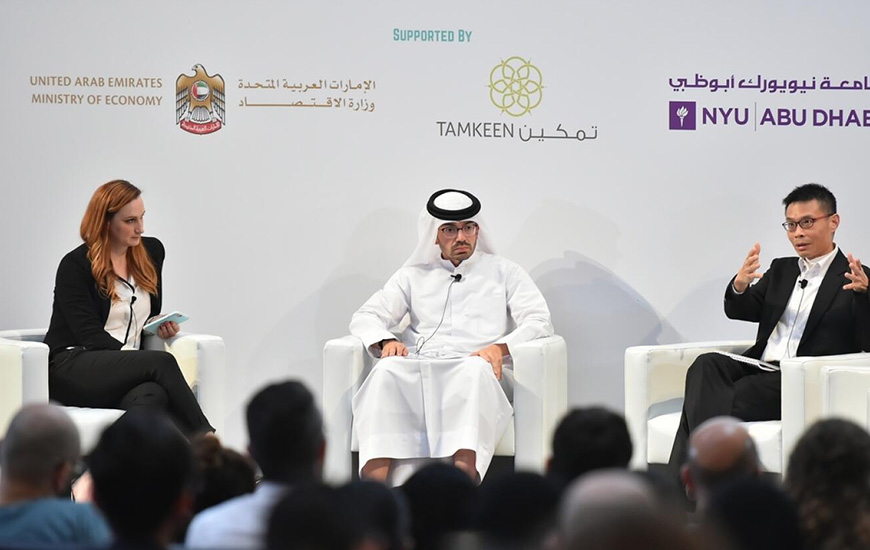 Apple, Amazon, Google, Microsoft and Facebook are the biggest 5 US firms measured by market capitalisation. All of them were bootstrapped, funded by angels and venture capital. This represents a fundamental shift in how the new economy will develop globally. Read on about the creation of an angel investment ecosystem in the UAE.
The reveal
"We now have founders funding founders." A couple of very powerful words spoken by Ramesh Jaganathan, managing director of startAD, to commence the AngelRising event held at the New York University Abu Dhabi (NYUAD) on March 23. You need very few words to describe success. It was a full house at the event anchored by a dazzling array of speakers and panellists including renowned local and global experts like Dr Saeeda Jaffar – managing director of Alvarez and Marsal Middle East Limited, John Tate – CEO of Tamkeen, Jake Zeller – partner at AngelList, Ola Doudin – co-founder and CEO at BitOasis, Lina Hediah – executive director at Consensys, Rahul Pai – COO at UAE Exchange, Jonathan Nelson – founder and CEO of Hackers/Founders, Christos Mastoras – founder of Glambox and managing partner at Iliad Partners and Omar Christidis – CEO and founder at ArabNet among others.
"As venture capital moves to larger amount, there is an investment gap in the market that can be filled by CEOs and successful founders of enterprises." Jaganathan went on to briefly and precisely describe the organic growth of angel investing in the UAE, pointing out that it is local investors who are creating the ecosystem of entrepreneurship through domain, cultural and region-specific knowledge. The day's events were clearly an extension of the first few words.
Background
Anchored in the inspiring and architecturally elegant NYUAD campus just off the E311, startAD is an innovation and entrepreneurship platform that supports startups in the UAE at every stage of their development. It seeks to strengthen the entrepreneurial ecosystem in the UAE by offering core programmes, education initiatives and outreach events for all members of the local startup community – from innovators to early-stage entrepreneurs to investors. The platform has run 64 programmes with over 2,500 entrepreneurial participants. But it's not just about the programmes. StartAD actively connects diverse players in the ecosystem. Government entities, technologists, regulators, banks, corporates, entrepreneurs, students and academicians. The primary objective is to encourage all players to interact and create value for themselves as well as for the larger context.
The event
One outreach activity is the annual marquee AngelRising event, organised by startAD in partnership with VentureSouq. Now in its fourth year, AngelRising is on the calendar of the cognoscenti of the investment community in the region. The participation, the quality of the presentations, the incisive questions and the powerful networking sessions all point to an event series that is pretty good. There were no murmurs in the audience of content being repeated from previous years – always a huge challenge for events of this size. A quick look around indicated that there must have been at least 400 attendees in the packed auditorium and foyer.
The agenda was thought-provoking on its own with topics like "Local Vision: How do Regional Investors See Deals Differently?", "Investing in Venture & Crypto: Is One Replacing the Other?" and "Getting Liquid: Choosing Investments that will Exit." With expectations set by the agenda topics, it was encouraging to see that the actual delivery did not fall short.
Some interesting sound bites. John Tate commented that over 42 per cent of startups in the Mena region are in the UAE. He shared that NYUAD had the highest number of Rhodes Scholars from any one university globally. Jake Zeller from AngelList spoke about the powerful role of angel investors in developing new platforms. He simply stated that all of the 5 biggest companies by market capitalisation in the US had been funded by angel investors and venture capital. Quite clearly, the older forms of capital formation and lending which were largely bank-driven are not leading the thrust in economic development. He hinted that this is something to watch out for in all regions. He shared a few stats from the WhatsApp story – just 35 engineers and 6 years created a base of 450 million users and an exit of $19 billion. Another interesting statistic that he shared was how venture capital delivered the best IRR as an asset class at 63 per cent over a 23-year period. He reiterated that it requires being vested for long cycles to see returns.
The panel on Crypto and Venture as forms of funding startups was insightful. Tammer Qaddumi of VentureSouq anchored the panel – Lina Hediah, Rahul Pai and Jonathan Nelson. Hediah made it clear that every corporate and financial institution was looking at blockchain technology.
Christidis from ArabNet revealed a number of interesting facts in his data-driven presentation. Clearly, the UAE is far ahead of the pack in the region in terms of number and value of angel investments. What was most interesting was the changing trends in the ventures that were being funded which, in turn, harked back to Jaganathan's description of the impact of the growth of a mature angel investment ecosystem in the UAE and the region.