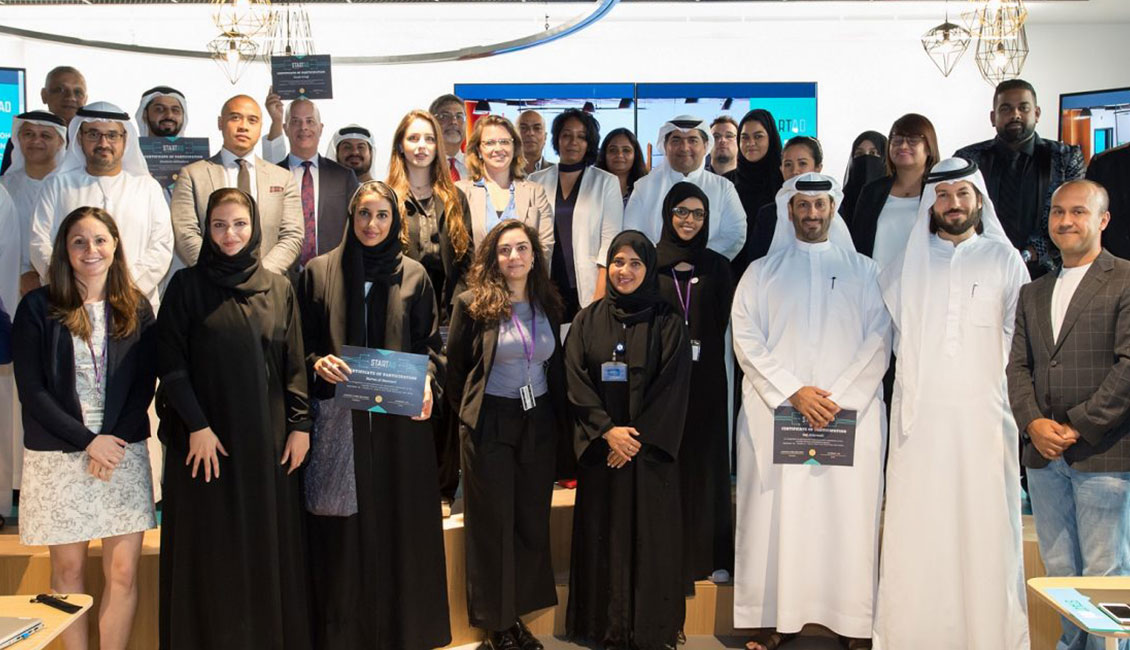 Ten years ago, NYU Abu Dhabi opened with an ambitious vision to become one of the world's leading research universities, addressing complex challenges of local and global significance.
Anchored at NYU Abu Dhabi and powered by Tamkeen is startAD, an Abu Dhabi-based global accelerator steering seed-stage technology startups to launch, develop, and scale their ventures. A core focus for startAD has been advancing homegrown tech innovations developed by UAE Nationals through its Research Commercialization Summer Incubator program, and the Ibtikari incubation program, a strategic partnership between startAD and the Khalifa Fund for Enterprise Development. Since its inception, startAD's participating startups have raised USD 50 million in investment, secured over 50 projects with corporations, and created more than 250 jobs globally. Here, we take a look at ten startups from startAD's programs with UAE nationals on their founding teams that are contributing to the UAE startup ecosystem and developing a true knowledge economy in the country.
1. Arabee Program: Ibtikari 2020 Industry: Educational Technology (EdTech) Founders: Saeed Basweidan, Ferakh Lakhany, Lenka Basweidan, and Hala Al Ali Arabic can be a complex language to learn, with a rich diversity of dialects proving a challenge to gain full mastery, particularly at an early age. Arabee was founded in Dubai in 2017 to encourage, nurture, and inspire children to learn Arabic through a fun, engaging, and organic platform that is intuitive for teachers, parents, and children to use. The platform participated in the 2020 Ibtikari cycle, and has over 6,000 students from over 22 schools.
2. MagCrete Program: Research Commercialization Summer Incubator 2019 Industry: Sustainable Building Materials Founders: Kemal Celik, Rotana Hay, Abdullah Khalil, and Ghanim Kashwni Concrete is a critical construction material, which has been used to build everything from Roman aqueducts to the Burj Khalifa, but emits a high amount of carbon dioxide during the production process, and is contributing to global warming. The cement industry is responsible for producing 3.2 billion tonnes of Co2 emissions. MagCrete tackles this problem head on through designing a block of concrete that absorbs, and doesn't produce, carbon dioxide during the manufacturing process. Using pre-cast concrete blocks of reactive magnesium oxide, the team are looking to expand on the wider GCC construction industry with this constructive innovation.
3. SPL Co. Program: Ibtikari 2020 Industry: Artificial Intelligence (AI) and Cloud Migration Founders: Salwa Alzahmi and Ivan Boyd Having to manage complex or third party forms of code can be difficult, even for the most experienced of programmers. SPL Co. was founded in 2017 by an Emirati programmer who shared her future customers' frustrations, and created a platform that accelerates digital transformation by automating software migration and upgrading efforts. SPL is able to analyze tens of thousands of lines of code in a matter of minutes recovering the entire software architecture of the source code. With its advanced AI capabilities it helps to identify which areas of the code are easiest to migrate, what functions and services can easily be ported to the cloud, and was globally recognized the Global Telecom Award GTB, and the IET Achievement Awards that celebrate the incredible talent within engineering and technology to recognise people who have made a real impact in their industry.
4. Blanco Program: Ibtikari 2020 Industry: Sustainable Oral Care Founder: Dr. Ali Banihamour Every year, over one billion tubes of toothpaste are thrown away, ending up in landfill sites, or polluting oceans. Blanco, established in 2019 by an Emirati dentist, meets this challenge with a novel way to brush teeth: through a tablet of toothpaste. You pop the tablet in your mouth, chew it, and then brush as normal, leaving you – and the environment – with a smile on your face. Blanco took part in the 2020 Ibtikari cycle, and taps into a market that is valued at 26 billion USD.
5. Plexo Gaming Program: Ibtikari 2020 Industry: Gaming Technology Founders: Mohammed Turaif and Adnan Dekedek Gamers in the Middle East can face a challenge when trying to play in international tournaments. Often held outside the region, poor quality connections can often lead to gamers being disconnected and tournaments being cancelled. Plexo, founded in Abu Dhabi, provides gamers with a stable e-sport connection, allowing players to monetize their passion and concentrate on enjoying the important thing – playing. Plexo launched in December 2019 and has built a community of 1,200 players to date.
6. SCAR Program: Ibtikari 2020 Industry: Sustainable Mobility Founders: Eissa Mohamed and Mohammed Taha Ansari Developing reliable and efficient forms of personal transport is a central priority of engineers and companies, looking to meet national and international policies on climate change, including the UAE's own 2030 Agenda for Sustainable Development. SCAR, founded by students from Khalifa University, developed a car which runs on solar power. Able to travel up to 66 kilometers per hour, the car is charged from the natural light of the sun. Having taken part in the 2020 Ibtikari cycle, the car is helping the UAE drive towards a brighter and more sustainable future.
7. Malena Program: Ibtikari 2019 Industry: E-commerce Founder: Marwa Al Mansoori Getting cosmetic surgery in the UAE can be a confusing process, as consumers are dazzled with an array of providers, prices, and benefits. With so much competition in the market, it can be confusing and frustrating to find the right healthcare provider. Enter Malena: the first app in the UAE dedicated to helping those looking for cosmetic surgery get the procedure that is right to them. Founded in 2017 by two UAE nationals, Malena provides an easy-to-use mobile platform that can guide the user around treatments in Dubai, helping both consumers, and providers, make the right connection.
8. DirectSchool Program: Ibtikari 2019 Industry: Mobility Hardware Founders: Mariam AlHashmi and Sadeq Al Hasani Each time a parent packs up their child's lunch, waves them goodbye, and places them on a school bus, is another moment of small anxiety. DirectSchool is a simple application that allows parents, and teachers, peace of mind that a child has safely arrived at school. Through tracking their child's school bus, parents can know when their son or daughter has safely arrived at school and when they are on their way home, and teachers can know when a student is due to arrive for another day of learning.
9. Meet the Locals Program: Ibtikari 2019 Industry: Tourism Founder: Khadija Behzad Many visiting the UAE will be stunned by the sights of the Sheikh Zayed Grand Mosque or the Burj Khalifa, but few tourists get to experience the warmth and hospitality of Emirati culture. Meet the Locals is a social tourism app, founded in Dubai in 2016, that connects tourists coming to the UAE with Emiratis who call this country their home. In 2017, the app was awarded Best Tourism Startup.
10. Chameleon Program: Research Commercialization Summer Incubator 2019 Industry: EdTech Founders: Sogun Omolo, Shamsa Al Najjar, and Tofunmi Kupoluyi Coding students in Africa hold great promise for shaping the next generation of digital technologies. However, students are being taught out-of-date coding languages, with outdated syllabuses, meaning that students who complete training will find their skills obsolete, and not able to join a wider workforce. Chameleon is a gamified, digital learning environment introduced directly into schools as an extracurricular club. Their product democratizes access to high-quality Information Technology education.