The rights of women in the workplace have come a long way – but in a post-pandemic world there is still much work to do. A recent report by Global Entrepreneurship Monitor (GEM) found that many women entrepreneurs around the world managed to adapt to the disruptions caused by the pandemic, despite insufficient public policy interventions in areas like support for family care, schooling and small-business impacts. Nevertheless, it brought to the fore some hard realities about the adverse impact of Covid-19 on women. Of those who reported recently closing a business, women in the GEM survey were 20 percent more likely than men to report a business closure due to the pandemic. As we mark International Women's Day, it is important to recognise the challenges and barriers that women employees and entrepreneurs across the world still face so we can start addressing the gaps.
3 steps towards the gender-balanced workforce we all deserve
Mind the gap While women entrepreneurs are clearly making significant contributions to the global economy and communities around the world, women are still at a disadvantage in terms of both network ties and funding. The GEMs report suggests that, although entrepreneurship is an attractive option for women around the world, women are less likely to see themselves as having the skills to start a business, less likely to know other entrepreneurs, and less likely to invest in businesses — and at lower levels when they do. This is at least partly because women tend to miss out on important out-of-hours networking opportunities due to family responsibilities. Across all regions, women are less likely on average than men to know an entrepreneur personally (49.6 percent vs. 56.2 percent). Research by BCG corroborates these findings, showing that female business owners receive $1 million less funding on average than men when they pitch for early-stage capital. And this is despite female-founded businesses delivering 78 cents for every dollar of funding compared with 31 cents for those founded by men. Spinning plates But more than anything, the main challenge that women face is that they are expected to excel in multiple roles. As an individual, a mother, sister, wife, and a businesswoman, they feel they must do everything expected from them and not ask for help. And they're supposed to do it all in a way that men still aren't expected to do. This is especially true of the entrepreneurs that I am fortunate to work with at startAD, the Abu Dhabi-based accelerator powered by Tamkeen and anchored at NYU Abu Dhabi. Our second annual Academy for Women Entrepreneurs (AWE) program is aimed at women-owned small and medium enterprises (SMEs) and entrepreneurs who wish to stabilize, pivot, upskill, and scale their businesses in a post-pandemic economy. We worked with over 40 businesses, and a key thing that stands out is there is a mindset that needs to be unlocked before we start any program. The first thing that is encouraged for the entrepreneurs is to help them talk to each other to realise that they're not alone in this predicament. Next, we encourage them to get the frustration out of their system so that we can then exchange different ideas for balancing these responsibilities. Then we share ideas and tools for delegating tasks, simplifying their work, and becoming more efficient. Ultimately, though, entrepreneurs must find answers for themselves, because there is no right way and, in truth, no perfect balance. But there are some constants. For instance, when we ask our participants if they pay themselves for all their effort, most of them say they don't. This is the first thing that needs to change, as it's an important step to putting themselves first and preventing burnout. And we have seen some remarkable successes from this process. The first edition of AWE saw each participating business demonstrate significant growth, with two securing commercial agreements with large Abu Dhabi-based corporations and others expanding their operations in markets such as Saudi Arabia and Qatar. Collectively, the businesses attracted over ten new clients, earned four new industry certifications, and adopted digital business models as a response to the new market conditions.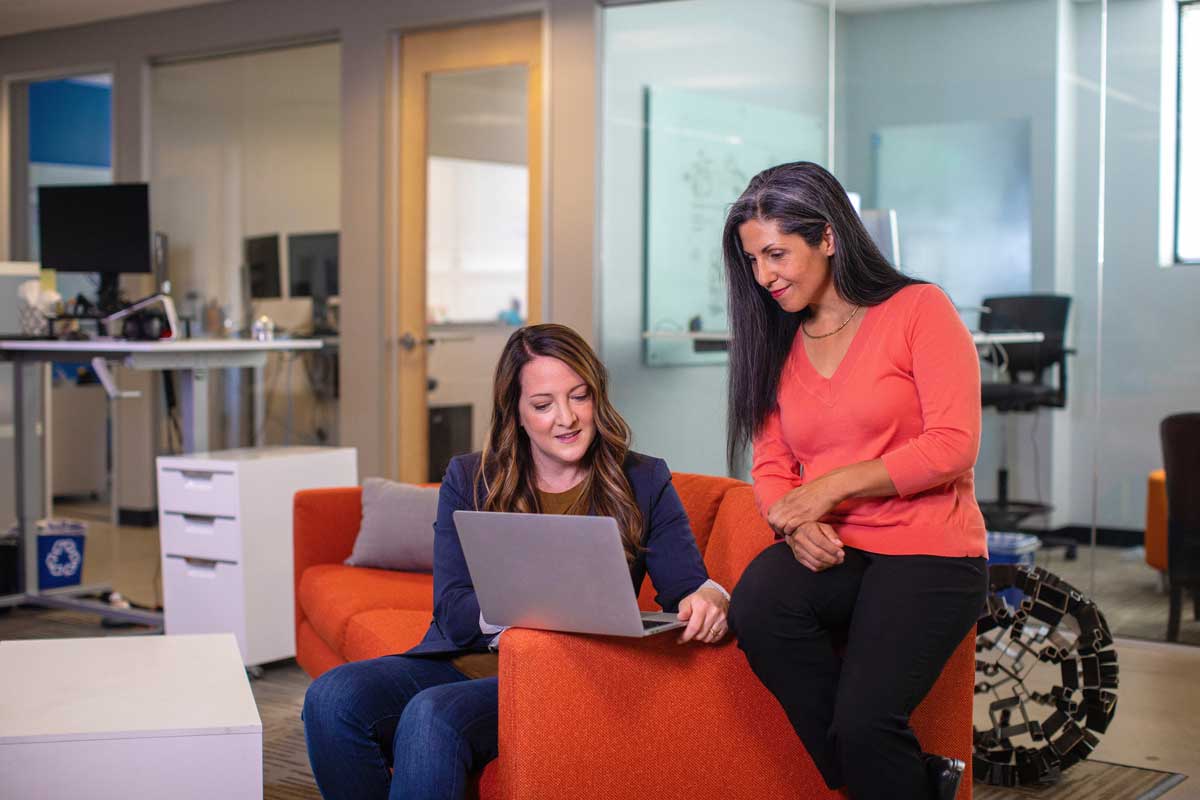 Women are still at a disadvantage in terms of both network ties and funding. Future benefits I enjoy seeing the results of this process because it is clearly vital that women are able to balance their careers or run a successful business without neglecting their personal lives. And as a society, we must empower all participants in the future economy with the skills needed to thrive. The payoff will be substantial. A McKinsey report from 2019 calculated that advancing female equality in the workplace could add $12 trillion to the global GDP by 2025. It also noted that gender-diverse companies financially outperform others by 15 percent. And there remain plenty of reasons for optimism. According to GEM, globally, women and men are at parity in reporting that the pandemic provided new business opportunities (40.6 percent vs. 42.2 percent), with women slightly more likely than men to report higher growth expectations due to the pandemic (53.5 percent vs. 49.6 percent), perhaps reflecting high optimism. The report also says the Middle East & Africa (MENA) region shows some of the highest rates of women's entrepreneurial intentions in the world. Women entrepreneurs are at least twice as likely as men entrepreneurs to have graduate education in the UAE. McKinsey analysis shows that the MENA region could see a $2.7 trillion boost to GDP by 2025 if gender inequality is disbarred for entrepreneurs. So rather than letting women entrepreneurs suffer due to their excessive share of pandemic-related burdens, let's instead build on the momentum that the pandemic forced on us, in terms of thinking more creatively about the future of work. We must ensure that the system doesn't hold back fifty percent of its most important asset – its people.